Online Business Banking is more secure than ever.
Introducing Security Tokens.
First International Bank & Trust is proud to deliver the highest level of security for our Online Business Banking customers. We are adding an additional layer of security to our log in process called Security Tokens. This helps ensure that your information is secure, protecting you from fraud and identity theft. Click & Learn
How it works - Security Tokens verify your identity in two ways. Every time you log in to Online Business Banking, the Bank identifies you, and it lets you identify the Bank.
Log in using your Token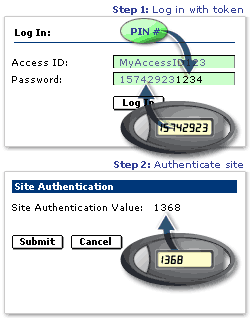 Follow the steps below to log in using your token. Click & Learn
Once your token is activated, log in using your current ACCESS ID.
Press the gray button on your token to generate a ONE TIME PASSWORD.
Enter the ONE TIME PASSWORD into the PASSWORD field on your screen.
AFTER YOUR TOKEN PASSWORD, enter the 4-digit PIN number you selected during activation to complete your password.
Click LOG IN.
The SITE AUTHENTICATION screen appears.
Press the token's gray button a second time to generate the SITE AUTHENTICATION VALUE.
The 4-digit number on your token must match the site authentication value displayed on the screen. If they match, click SUBMIT to log in

If the site authentication numbers DO NOT MATCH, DO NOT CONTINUE. Start over or contact

First International Bank & Trust

for assistance.
You are now securely logged in.
Questions?
If you have questions, please visit our Help Center, or contact us for assistance.